Confined Space Inspections
Gone are the Days of Dangerous Traditional Confined Space Inspections.
Wait, are you still: 
Using outdated methods? 
Putting humans at risk? 
Erecting unnecessary scaffolding? 
Spending weeks on permitting and planning? 
Learn more about our inspection process where we bring your inspection to your fingertips!  
Eye-bot gathers visuals of the most complex, confined spaces that would traditionally require expensive and high-risk inspections.
Certified Team. Sensor Flexibility. Fully Licensed & Insured.
Drones are the preferred method of inspection primarily to reduce the safety risk posed to personnel working in hazardous environments. As well, drones save time and money.
The need to inspect confined spaces is present in virtually all industries. Using a collision-tolerant drone, our pilot can navigate any confined space safely. And, when required, be directly in contact with walls.
Read our use cases. Watch a confined space fly-through. See our case study with a leading Engineering Firm.
Company: Shell Pennsylvania Chemicals
Performed a confined space inspection inside of HRSG Burners to ensure proper burner orientation was maintained during the lift and move into its final location. We were able to provide our client with a high-quality 4k video that can be used to inspect the current state of the HRSG burners as well as begin a video log for future inspections.
Company: Voith
Equipped with industry-leading equipment and precision flying we performed a confined space inspection of a hydro turbine under the Ohio River. In just a few hours, we performed a complete inspection of the turbine bulb and the stabilizers inside the dam – maintaining complete safety for personnel saving our client an estimated $90,000.
Protecting Your Workers in Confined Spaces
Safety is paramount at Eye-bot and our team has extensive experience flying drones in inaccessible spaces. Our solution mixes up your workflow and brings the inspection to your desktop where high-resolution video and imagery are canvassing the details of your subject. Say goodbye to putting your team members in hazardous situations!  
Champion a new way of performing confined space visual inspections
Internal inspections can become expensive with extended downtimes. Typically, planning, permitting, and scaffolding take up much of this time where our confined space solution is completed in a fraction of the time increasing your savings without the need for scaffolding and keeps inspectors out of harm's way. Inspection footage is yours to keep so you can access it any time historic reference is needed for a specific vessel, flare, or silo. 
Hard to reach tight areas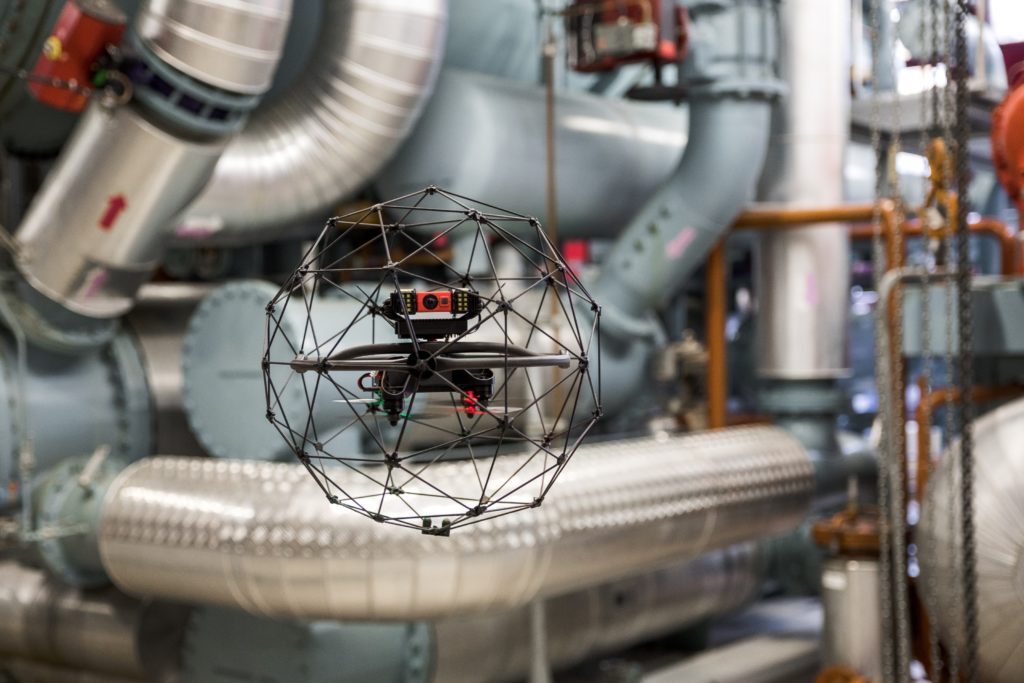 Internal Inspections are Expensive
Our certified confined space pilots have hours of inspection time on some of the biggest assets in North America. We have inspected everything from coal silos to brand new vessels for commissioning and startup. Our pilot's attention to detail and experience on large assets in high stress situations are optimal to deliver you with high quality visual data efficiently. 
Use Case: Confined Space Inspections
Customer: Rustbelt Revision
Rustbelt Revision is an organization with a mission of helping to revitalize the city of New Kensington, PA. Eye-bot performed UAS Inspections of various buildings that had been left abandoned for years. Using Eye-bot's confined space drone technology, Rustbelt Revisions was able to gain valuable insight into the severe damage and devastation throughout the various structures. The 3D high resolution data collected by Eye-bot has since been used to assess the structures integrity and draw preliminary conclusions into whether the buildings were worth preserving.
Eye-bot Drone Inspection of Roof Collapse
CSD Engineers has been engaged in a long-term structural inspection program for a major metals company. Scope of inspections includes conveyor systems, industrial buildings, walking surfaces and steel support structures. Learn how Eye-bot was able to safely deliver significant cost and time savings using advanced drone solutions for an enclosed space inspection.

CSD hired Eye-bot to assist in the inspection of assets by capturing high-resolution video that could be used for further analysis.
Inspecting confined spaces just got easier!