Gone are the days of dangerous traditional confined space inspections.
Wait, are you still:
Erecting unnecessary scaffolding?
Spending weeks on permitting?
Why?
Certified Team. Sensor Flexibility. Fully Licensed & Insured.
Drones are the preferred method of inspection primarily to reduce the safety risk posed to personnel working in hazardous environments. As well, drones save time and money.
The need to inspect confined spaces is present in virtually all industries. Using a collision-tolerant drone, our pilot can navigate any confined space safely. And, when required, be directly in contact with walls.
Read our use cases. Watch a confined space fly-through. See our case study with a leading Engineering Firm.
Eye-bot gathers visuals of the most complex, confined spaces that would traditionally require expensive and high-risk inspections.
Protecting Your Workers in Confined Spaces
Safety is paramount at Eye-bot Aerial Solutions. Our highly qualified team has extensive experience implementing the OSHA Confined Space Entry Permit into our workflows to assure safety when entering confined spaces with known hazards or unknown hazardous atmospheres.
Company: Shell Pennsylvania Chemicals
Performed a confined space inspection inside of HRSG Burners to ensure proper burner orientation was maintained during the lift and move into its final location. We were able to provide our client with a high-quality 4k video that can be used to inspect the current state of the HRSG burners as well as begin a video log for future inspections.
Company: Voith
Equipped with industry-leading equipment and precision flying we performed a confined space inspection of a hydro turbine under the Ohio River. In just a few hours, we performed a complete inspection of the turbine bulb and the stabilizers inside the dam – maintaining complete safety for personnel saving our client an estimated $90,000.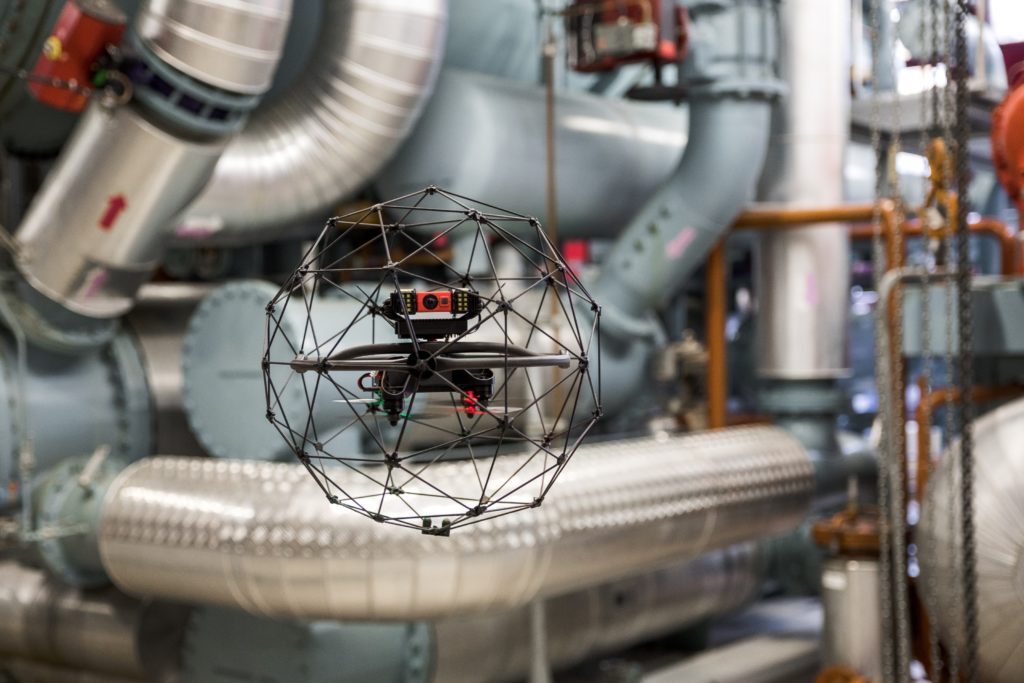 Certified inspection reviews
Footage captured during these confined space inspections can be reviewed by a visual inspector. They determine whether the area requires a manual entry for further inspection. Our pilots have gone through extensive confined space training in order to perform each operation as safe and efficient as possible.
HSE guidelines and aging assets require increasingly frequent, more thorough and more complex inspections. Elements include silos, tanks, sewers, pipes, access shafts, chimneys, boilers, manholes or underground cable galleries. Working in these confined spaces typically carries the following risks:
Insufficient amount of oxygen for the worker to breathe, or the presence of asphyxiants
"Mechanical" hazards: moving parts of equipment
Slips, falls, collapse or falling debris
Presence of hazardous chemical or biological substances
Risk of fire or explosion
Structural hazards, engulfment, entanglement
Use Case: Confined Space Inspections
Customer: Rustbelt Revision
Rustbelt Revision is an organization with a mission of helping to revitalize the city of New Kensington, PA. Eye-bot performed UAS Inspections of various buildings that had been left abandoned for years. Using Eye-bot's confined space drone technology, Rustbelt Revisions was able to gain valuable insight into the severe damage and devastation throughout the various structures. The 3D high resolution data collected by Eye-bot has since been used to assess the structures integrity and draw preliminary conclusions into whether the buildings were worth preserving.
Eye-bot Drone Inspection of Roof Collapse
CSD Engineers has been engaged in a long-term structural inspection program for a major metals company. Scope of inspections includes conveyor systems, industrial buildings, walking surfaces and steel support structures. Learn how Eye-bot was able to safely deliver significant cost and time savings using advanced drone solutions for an enclosed space inspection.

CSD hired Eye-bot to assist in the inspection of assets by capturing high-resolution video that could be used for further analysis.
Inspecting confined spaces just got easier!